April 01, 2004
1:00:01pm. Thursday Afternoon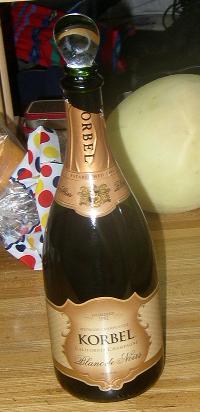 Do you know where your FELLOW MUNUVANIAN is at 1:00:01? This is where I was. So it's not Dom Perignon, but what can I say? I'm not making that much money. I can't afford it. Korbel has *bubbles*, so I'm not complaining! Shit, lately I haven't been against drinking sprite mixed with beer. (pulls you aside a little too roughly...BUT I will never admit to that in public, so let's just keep that between us? Shall we? lets you go, smooths your shirt, shoots you a smile. Excuse me. Where are my manners?)
I just don't think y'all understand how BAD the kids were today.
(In Unison) How bad, TCWH?
They are so bad, that I have considered inviting all the couples with no children in for a sit down lunch and spiking their drinks with birth control. Any sort will do. Perhaps I will just invite them over for a birthday party and a drink and let the little monsters run around out of control. I love children as much as the next person, but 27 little people (how PC of you, TCWH! Why thank you! Champagne = liquid southern accent and *manners*) 9 of whom need extra help is too much. 15 is an acceptable number. Excuse me. I will step off my teacher's podium. Not that I belong on that damn thing anyway.
Know why I love D.H.? Because he says stuff like this:
About Marky Mark in Rockstar:
DH: So, what, is he trying to be Dirk Diggler in every movie now?
TCWH: What do you mean?
DH: Listen to his intonation. It is all breathy, like he is trying to sound dumb.
TCWH: Like this (insert me doing the Peanuts adult WAH WAH WAH with dadadadda's)?
DH: Exactly.
TCWH: I see what you mean.
All communications between men and women should be this easy. Or should I say painless? In fact, I believe I will start incorporating it into the classroom in the form of a puppet show.
Good LORD I am boring the piss out of myself! Back to my drinking! Simon, I am sorry if I am not living up to your expectations. Worry. Worry. Give me a week. I'll be right as rain. Or right as champagne!
(PSST. What's the spoon in the top of the bottle for, TCWH?) It keeps the bubbles in. And you don't have to pay for one of those expensive thingamajiggy's that I don't know how to say in Japanese.
Champage. M'mmm M'mm Good. Come over and have a glass! Or bottle!